An informal talk on the history of PGP from Zimmermann's personal perspective, with some discussion of the relevant public policy issues, and some technical information of the new PGP architecture, including its escrow resistant features and some new features for scalability.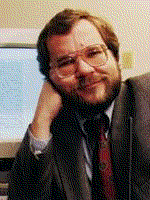 Before founding PGP, Philip R. Zimmermann was a software engineer with more than 20 years of experience, specializing in cryptography and data security, data communications, and real-time embedded systems.

He has received numerous technical and humanitarian awards for his pioneering work in cryptography. He received the 1996 Norbert Wiener Award from Computer Professionals for Social Responsibility for promoting the responsible use of technology. He also received the 1995 Chrysler Award for Innovation in Design, the 1995 Pioneer Award from the Electronic Frontier Foundation, the 1996 PC Week IT Excellence Award, and the 1996 Network Computing Well-Connected Award for "Best Security Product." PGP was selected by Information Week as one of the Top 10 Most Important Products of 1994. Time Magazine also named Zimmermann one of the "Net 50", the 50 most influential people on the internet in 1995.

Zimmermann received his bachelor's degree in computer science from Florida Atlantic University. He is a member of the International Association of Cryptologic Research, the Association for Computing Machinery, the League for Programming Freedom, and the Union of Concerned Scientists. He serves on the board of directors of Computer Professionals for Social Responsibility, and the Advisory Panel of Americans for Computer Privacy.