About Delft and its vicinity
The historic city centre of Delft is beautifully preserved, full of old canals spanned by picturesque bridges and lined by ancient buildings.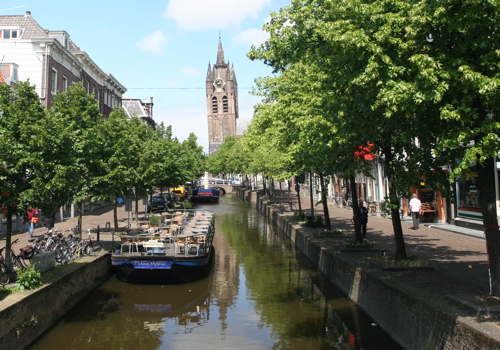 On the 10th of July 1584 William of Orange was murdered on the stairs of "Het Prinsenhof" (now a museum) by the Spanish sympathizer Balthazar Gerards. The wall of the stairs shows two bullet holes that bear witness to this event.
Delft is synonymous with ceramics - ceramics have been produced in this city for many centuries. In many Dutch households you will find a bowl or a vase with a hand-painted motif, and these products are also very popular with foreign tourists. If you like this, don't miss the Porceleyne Fles.
The Technical University of Delft, venue for SANE 2006, is the oldest technical university in the Netherlands and still a global centre of academic excellence.
Delft is an excellent base-camp for anyone wishing to spend a few days visiting the Netherlands' main tourist attractions. The Keukenhof tulip fields (stunning in spring!) and the Kinderdijk (famous for its windmills) are less than a half an hours drive. Madurodam, a miniature village featuring models of many Dutch landmarks, is only twenty minutes away. And, of course, The Hague, Rotterdam and Amsterdam are packed with museums, shops and sightseeing opportunities.
Delft is located between The Hague and Rotterdam, both of which can be reached by train in around fifteen minutes. Frequent rail services link Delft also to Amsterdam central station (60 minutes) and Amsterdam airport Schiphol (45 minutes).
For more information about Delft, please visit the official city of Delft site.