Aula Congress Centre at the TU Delft campus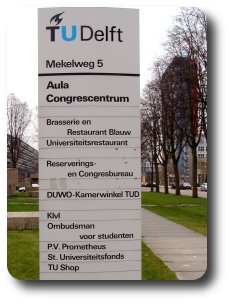 The venue for SANE 2006 is the Aula Congress Centre, located on the campus of the University of Technology in Delft. You'll find the information board on the left near the entrance of the building.
Address:
TU Delft
Aula Congress Centre
Mekelweg 5
2628 CC DELFT
The Netherlands
Download: route description (PDF)
Coordinates: North 52° 00.111' ; East 4° 22.338'.
Here is the spot-on Aula Congress Centre placemark that you can add to your Google Earth's Placemarks folder. If you prefer to display that in your browser, use this link to Google Maps.
The Aula Congress Centre (picture below) itself is a remarkable building. From various viewpoints it looks like an ancient spaceship that decided to settle on planet Earth.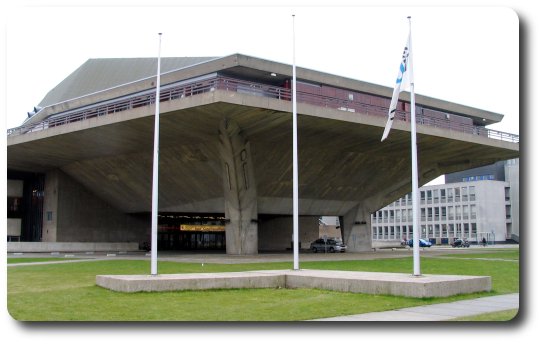 Here is a map of the TU Delft campus. The Aula Congress Centre is building number 20 on the map. Click the image for a full-size map. Note: on the bottom left it says "Bus route with busstops".
If you travel by car, there is ample parking place available in various parking lots near the Aula Congress Centre.
The city center of Delft is at walking distance: cross the canal on the left of the map and you're at the edge of town already.