Internet Access Facilities and Terminal Room
SANE 2006 will offer Internet access facilities to its attendees. A UNIX machine with a link to the Internet will let you send and read email and log in on your own machine using telnet, rlogin or ssh. For increased security, we advise you to use ssh only.
The Internet Access Room will offer a number of X-terminals, UTP and wireless ethernet connection facilities, so both people with and without notebook computers will be able to use the facility.
Make sure your notebook uses DHCP for IP-address allocation, or be sure you know how to install a fixed IP address on your notebook.
Wireless connectivity through the 802.11-range of protocols will also be available.
No liability is accepted for damages resulting from the use of this facility.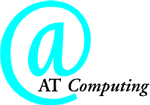 The Internet access terminal room facilities are kindly provided to you
by AT Computing.