Miscellaneous Part II: Department of "Nice to Know Things"
Emergency phone number: 112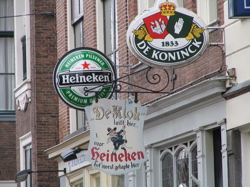 Places to eat and drink
Delft's historic centre offers a wide variety of cosy restaurants, lunchrooms, cafés and outdoor cafés. In the evenings you can choose from a small café to a restaurant with Michelin stars, from Italian cuisine to Greek, Spanish, French, Thai, Mexican, Indonesian, Chinese, African, Surinam or Dutch cuisine or simple, but tasty daily specials. In short, there is always something to suit your taste.
Time zone: CEST = UTC + 02:00
Actual local time: Tuesday August 16, 2022 07:57:29
Currency: Euro (€)
For actual rates: currency converter
ATM: on walking distance, located in a little kiosk next to the Aula Congress Centre
Weather:
Long term average: mean temperature 14 °C / 58 °F
(max. temperature 20 °C / 68 °F)